Student Support Services
420 S. 550 E.
River Heights, UT 84321
Class day: Thursday
Grades: 6-10
Schedule (Classes meet on Thursdays)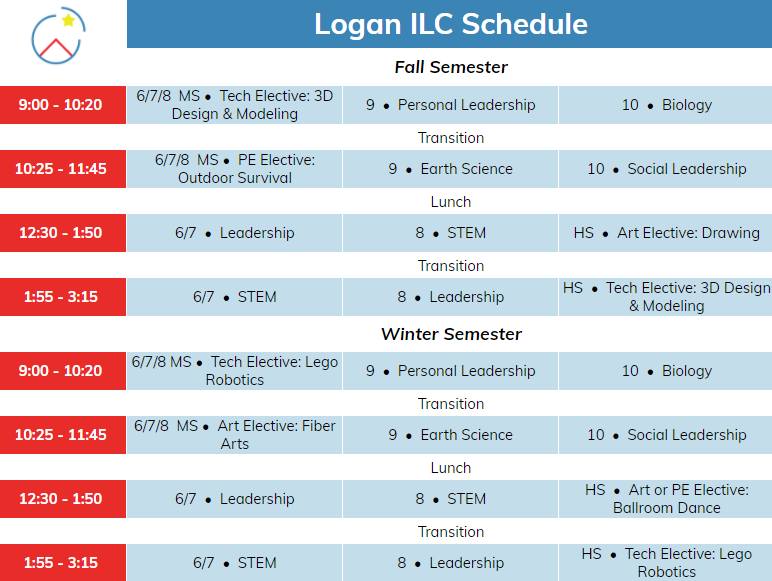 Courses Offered (Winter 2021)
All ILC classes are offered in-person. You can view specific middle school and high school course descriptions for "core" courses on the Williamsburg Learning website.
Grades 6/7 Core: STEM 6/7 B, Leadership 6/7 B
Grade 8 Core: STEM 8 B, Leadership 8 B
Grade 9 Core: Earth Science B, Personal Leadership B
Grade 10 Core: Biology B, Social Leadership B
Art & Tech Electives as follows: 
High School – Ballroom Dance (Winter)
Mentor: Laura Balmaceda
Do you want to dance? Students will learn the basics of Ballroom, Swing, and Latin dance. Along the way, they'll hone their social skills, practice leadership and teamwork, and challenge their minds and bodies. Instructors will introduce students to partner dance techniques including hold, frame, timing, musicality, connection, pattern, spacing, and direction. Each class will include practice time, social time, and performance sequences. Students will also learn the history behind the various forms of dance they practice.
Middle School & High School – Lego Robotics (Winter)
Mentor: Sarah Lopez
Students will design, build, and program robots to accomplish various challenges. Along the way, students will learn about the engineering design process, robust design, troubleshooting, sensors and feedback loops, and systems design. At the end of the semester, students will compete with their robots on assigned challenges.
Middle School – Fiber Arts or Textile Arts (Winter)
Mentor: Sarah Lopez
We will learn and practice spinning, knitting, crocheting, sewing, cross-stitch, and more. All work will be done by hand with time for practice in class and the option to continue projects at home. Students will learn a new skill and make their own creation every few weeks! Students will have the freedom to choose what to work on; projects may include scarves, hats, potholders, bags, etc. Whether you are already familiar with some of these skills, or if you've never tried any of them, you are welcome to join us for this fun and creative course. 
Previous Electives from Fall 2020
Middle School & High School – 3D Design and Modeling (Fall 2020)
Mentor: Sarah Lopez
This course introduces students to basic drafting and 3D modeling with Computer-Aided Design software. As students learn the basic tools of CAD, they will be challenged to imagine designs throughout the semester that are creative, innovative, functional, and unique. Students will learn to communicate their designs through both technical drawings and computer models. Then they will bring their designs to life through 3D printing.
Middle School – Outdoor Survival (Fall 2020)
Mentor: Julia Dye
In this course, survival skills are developed in three areas: Medical Survival, Outdoor Survival, and Mental and Emotional Survival. Students learn the basics of CPR, First Aid, emergency preparedness, safe outdoor recreation, how to build a shelter, start a fire, call for help, stress management, mindfulness, and suicide prevention. They practice new skills through hands-on exercises. By taking this course, your student will not only know the basics of how to survive their life, but how to thrive in the midst of uncertainty and challenge.
High School – Drawing (Fall 2020)
Mentor: Laura Balmaceda
Students will practice the fundamentals of visual art, including line, shape, value, composition, color theory, and design. Students will explore introductory art history and discover professional opportunities in the visual arts—from entertainment and gaming to publishing and graphic design. They will receive personalized mentor feedback to identify their artistic strengths and weaknesses. Each class will include a mix of focused practical lessons and personal projects.
Laura Balmaceda
HS Leadership 9 & 10, Art Mentor
Laura is passionate about helping students develop their creative side and explore their passions. She is also a passionate, life-long artist. In her own words, "When I am not on the dance floor, I work as a narrative illustrator, designer, and fine artist. I love to create images that are lyrical and filled with human emotion."
Laura has over 20 years of experience teaching and performing as a professional ballroom dancer. She recently joined the Weber State University Adjunct faculty as a specialist in Latin and Ballroom partnership dancing and also serves as the Artistic Director and Dance Director/Head Coach for Davis County Ballroom. She has studied Art and Graphic Design at Weber State University, and Illustration at Utah State University.
Julia Dye
MS Leadership & Outdoor Survival Mentor
Julia loves helping students develop the leadership skills to open new doors of opportunity and growth. In her own words, "The thing I love most about mentoring is the opportunity to connect one on one with youth—getting to know their quirks, their dreams, and their joys. It is incredible to witness their personal growth and development as they learn and experience new things."
Over the past eight years, Julia has mentored thousands of youth at BSA camps, AFY camps, and in private classes. Julia completed a degree in Elementary Education from Brigham Young University and enjoys reading, hiking, camping, and canyoneering with her husband, Jordan.
Dave Rees
Science/STEM Mentor
As you know, passionate and dedicated mentors can inspire students to learn more than they ever imagined. Dave is one of those mentors. He has tutored math and science for over six years and has been a student of science his entire life. In his words, "I love explosions, unpredictable chemical reactions, and figuring out why stuff does what it does. My greatest award in science was being voted "most likely to be a mad scientist" by my classmates at Carbon High."
Dave is studying Physics, Chemistry, and Biology, with an emphasis in classical scientific thought at Southern Utah University. His background in computer technology helps him find fun and unique ways to make math and science come alive.
Sarah Lopez
MS & HS Tech Electives Mentor
Sarah has always loved learning about math and engineering, but discovered early on that sharing this passion with students was even more exciting! She thrives on watching students make their own discoveries through curiosity and exploration and seeing them catch on to the excitement of learning.
Sarah has been involved in robotics for most of her life, both as a student and mentor. She has been a teacher, tutor, and mentor in a variety of educational settings from middle school through college. She has degrees in Math Education, Computer Engineering, and Electrical Engineering from Oklahoma Christian University and Utah State University.
Sarah lives in Logan UT, with her husband and foster children.
Becky Matz
Site Coordinator – 828-305-1530
As you know, dedicated communities foster dedicated students—and every community needs a leader. That's where Becky comes in. As a homeschooling mom of three kids, Becky has worked with youth in numerous settings, including camps, after-school programs, co-ops, and 4H. In her own words, "I hope I can help spark learning and discovery in youth and also help them recognize their strengths, gifts, and who they are so they can lead in their lives." Becky is here to answer your questions about the Logan ILC program and help make your experience awesome.
Becky graduated with a degree in Recreation Management from Brigham Young University and enjoys spending time outdoors, cooking, gardening, and traveling.