Smithfield Civic Center
40 E. 100 N.
Smithfield, UT 84335
Class day: Thursday
Grades: 6-12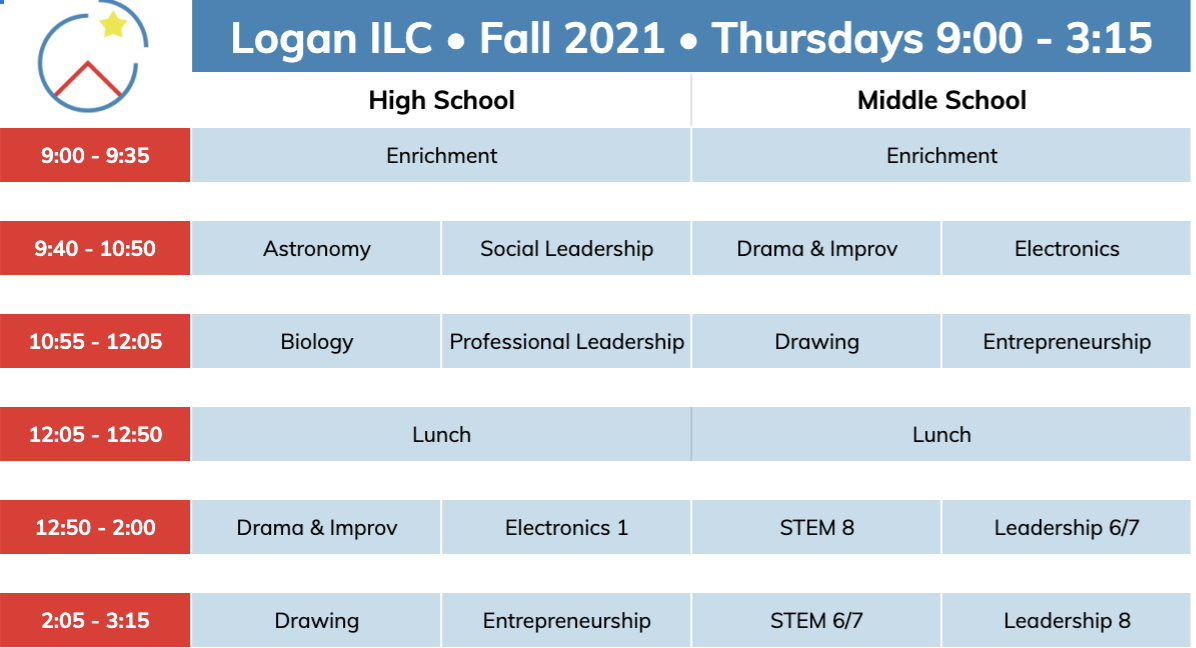 *Course descriptions for "core" classes can be found on the Williamsburg Learning website. Elective course descriptions are listed below.
Course Rotations at ILCs—New in 2021-22!
Middle school students enrolled at ILCs will take a block of courses: MS STEM, MS Leadership, and two electives. MS STEM and MS Leadership will operate on a 3-year rotation cycle. MS STEM at ILCs encompasses state requirements for all middle school grades.
High school students enrolled at ILCs will take a block of courses: science, leadership, and two electives. High school courses at the ILCs will operate on a 2-year rotation cycle.
See our MS Course Path and HS Course Path pages for more information.
Fall 2021 Electives
Middle School & High School – Drama & Improv
Improv is acting and reacting in-the-moment. The audience loves to see us establish and care about made up details. Knowing we're making it up as we go along, the audience rewards in-the-moment confident choices, collaboration and vulnerable emotional reactions more than clever ideas.
Middle School & High School – Drawing
Recommended for novice and intermediate artists, this course covers sketching, drawing, and the necessary skills to understand the foundations of illustration. It's great if you're looking to broaden your abilities as an artist or sharpen already established skills.
High School – Electronics
The first in a sequence of courses that prepares individuals to apply technical knowledge and
skills to assemble and operate electrical/electronic equipment used in business, industry, and
manufacturing. Instruction includes training in safety, electrical theory, parallel & series circuits,
Kirchoff's Laws, schematic diagrams, electrical components, and soldering.
Middle School – Electronics
Discover how technology has changed the world around us by pursuing technological solutions to everyday problems. While using scientific and engineering methods, learn how electricity, electronic systems, magnets, and circuits work.
Middle School & High School – Entrepreneurship
Students will explore why people choose to start businesses and some of the common pathways to entrepreneurship. They will also begin to explore basic concepts in entrepreneurship, different types of business ownership, and risk management basics