Canyon Grove Academy
588 W 3300 N
Pleasant Grove, UT 84062
Class day: Tuesday
Grades: 7-10 (6th grade NOT offered)
Schedule (Classes meet on Tuesdays)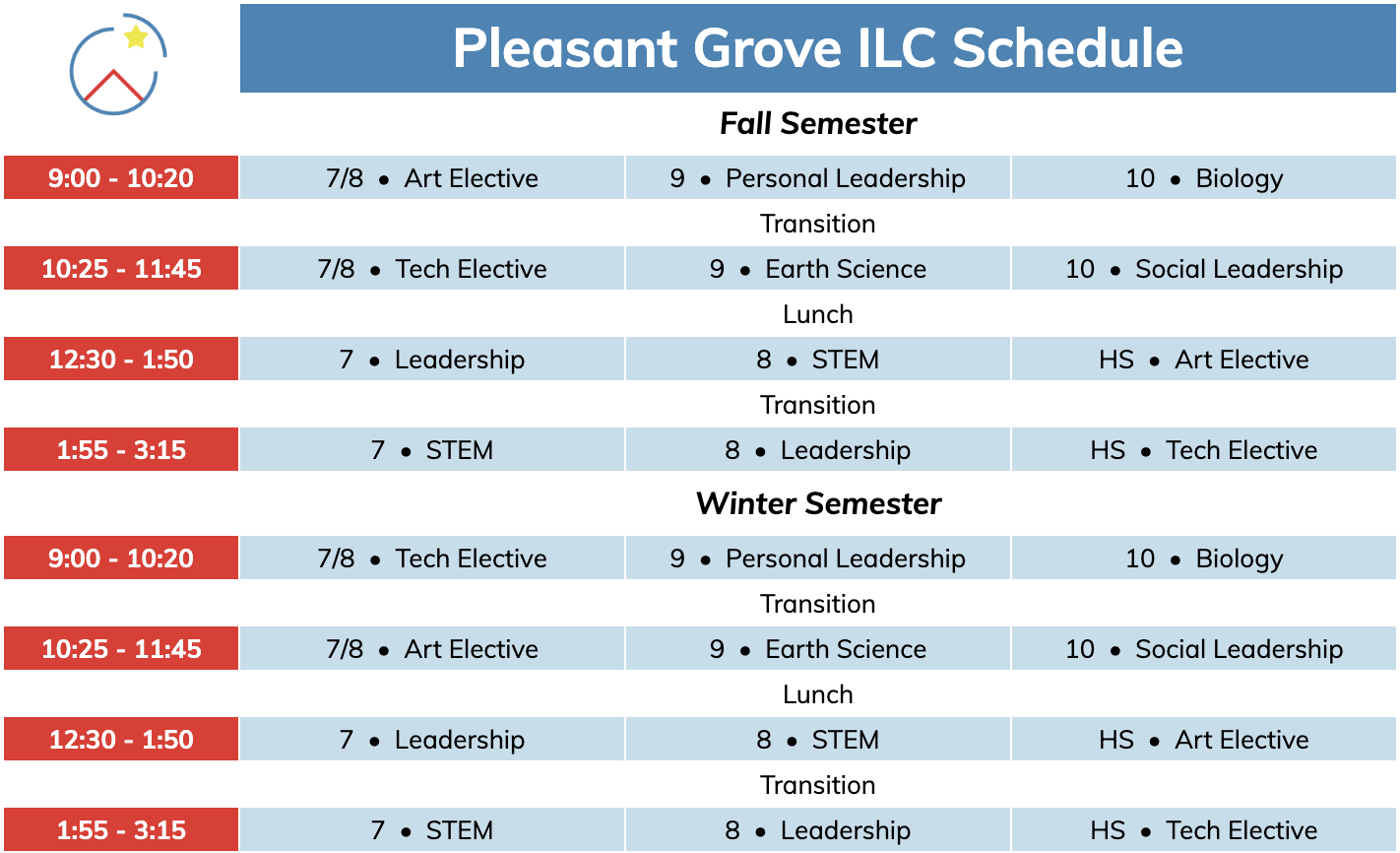 Courses Offered (Fall 2020)
Note: All ILC classes are offered in-person. You can view specific middle school and high school course descriptions on the Williamsburg Learning website.
Grade 7 Core: STEM 6/7 A, Leadership 6/7 A
Grade 8 Core: STEM 8 A, Leadership 8 A
Grade 9 Core: Earth Science A, Personal Leadership A
Grade 10 Core: Biology A, Social Leadership A
Art and Tech Electives as follows: 
Middle School – Rocketry and Plan Building (Fall)
Mentor: Jayson Davis
Students will blast off with science as they learn what it takes to design, build, and launch their own rocket! Students use engineering principles and creativity to launch an egg and safely return it to the Earth. Does your student wonder

how airplanes and airships work? In this course, they'll explore the four forces of nature that keep people in the air as they build and fly their very own airplane.
Middle School & High School- Watercolor Painting (Fall)
Mentor: Ngoc-Minh Anderson
In this course, students learn the many techniques of watercolor. They will explore color theory, watercolor resist, still-life, self-portrait, realistic and abstract painting. The mentor will lead students through the process step-by-step, leaving room for them to be creative. Students will be amazed at what they can create after every class! Emphasis will be on a new style or technique every 2 to 3 weeks.
Jennylynn Diesen
Art Mentor
Jennylynn loves helping students express themselves through the arts. She also loves seeing how art helps students succeed in other subjects and areas of their lives. She keeps a quote from Vincent Van Gough (her favorite artist) on her classroom wall: "If you hear a voice within you say 'you cannot paint,' then by all means paint, and that voice will be silenced." You can find some of Jennylynn's murals on display at Canyon Grove Academy.
Jennylynn holds a bachelor's degree from Southern Utah University and an art endorsement from the state of Utah. Prior to teaching, she had twelve years of experience as an interior designer, stager, canvas artist, and muralist in Washington, Arizona, and Utah.
Debbie Cluff
Engineering/SmartLab Mentor
Debbie is passionate about helping youth make the most of their potential. She is an educator, author, entrepreneur, wife and mother. Debbie has written books, hosted talk radio shows, coached high school cheerleading, been a successful blogger, and designed and built her own websites. She's spent more than fifteen years teaching and coaching young minds and is excited to work with your student.
Born and raised in Pasadena, California, Debbie graduated from California State University Los Angeles with a bachelor's degree in Liberal Arts and a master's in Elementary Education. She has three teenagers and an amazing husband who keep her smiling. Her favorite thing to do is sit at the pool and drink a Diet Coke.
Trenton Haskell
Science & STEM Mentor
Trenton is an experienced geologist with a passion for helping young minds discover their love of STEM. He is thrilled to support your student in exciting and innovative ways that will spark their creativity and imagination. Before joining our team, Trenton developed his love for teaching while working as a STEAM educator at the Leonardo Museum in downtown Salt Lake City.
Trenton graduated from Southern Utah University with a degree in geology and is currently working on a Master's degree in Secondary Science Education at Western Governors University. He currently lives in Salt Lake City with his wife.
Mitch Peterson
Leadership Mentor
As a parent, you want to find experienced mentors who care deeply about your student's development and success. Mitch is one of those mentors. He's worked with middle and high school students for seventeen years and remains in contact with many of them. Mitch believes every student is unique and he wants to help each one understand their full potential.
Mitch has a Bachelor's degree in Secondary Education from Northern Arizona University and a Master's in Educational Leadership from Western Governors University. He is on the board for both the Cache County Suicide Prevention Coalition and the Utah Adult Education Association. Mitch is also the Director of Coaching for Aggies FC, the largest competitive soccer club in Cache valley. He and his wife, Vanessa, live in Logan with their five children.
Jodi Burnett
Site Coordinator
Jodi is passionate about teaching students how to think rather than what to think. In her words, "The idea of students being in charge of their own education is very important to me, so I was thrilled to finally find a school that empowers students in that way." For the past two years, Jodi has worked at Canyon Grove Academy first as a teacher, then as the curriculum developer for their Epic Day program. She is excited to use her experience to instill leadership skills and a love of learning in the classroom.
Jodi and her husband have four children, two of whom are currently participating in the ILC program. Her favorite hobby is reading. She and her family also love hiking and biking through the red rock canyons of St. George.