Canyon Grove Academy
588 W 3300 N
Pleasant Grove, UT 84062
Class day: Tuesday
Grades: 6-10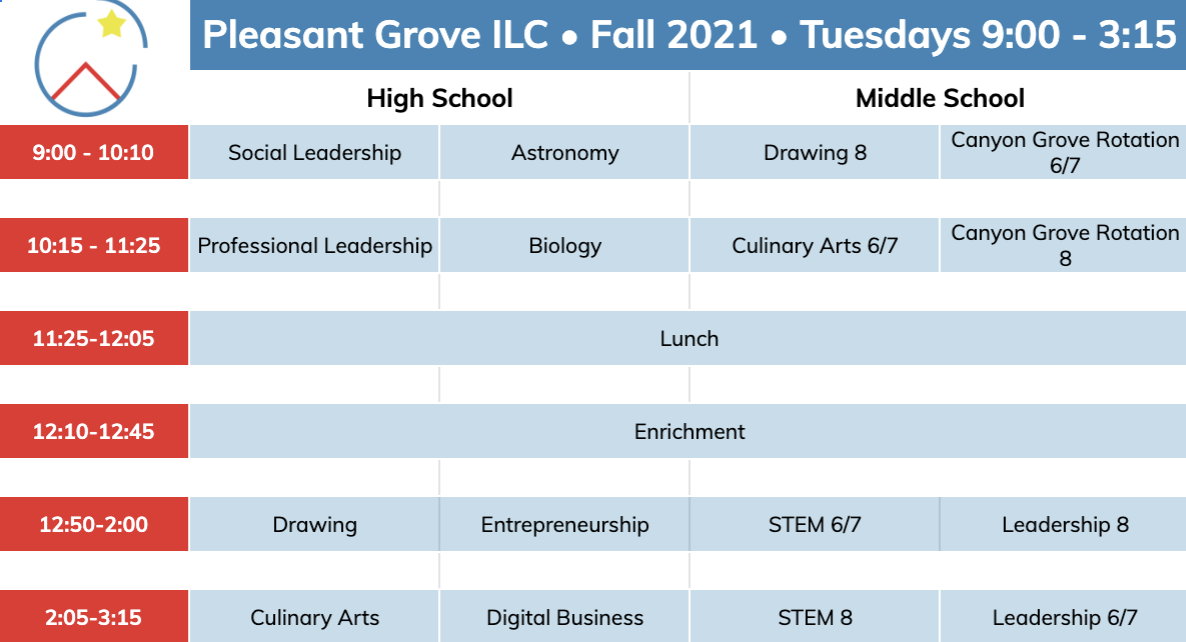 *Course descriptions for "core" classes can be found on the Williamsburg Learning website. Elective course descriptions are below.  
Fall 2021 Electives
Middle School – Canyon Grove Rotation
Throughout the semester this class will rotate through three different Specialty Courses: Canyon Grove's Farm, Space Center, and Smart Lab

Farm

: Unplug and come spend time learning and experiencing our school farm. The Farm at Canyon Grove Academy provides the opportunity to experience day to day farm life and offer fun and unique opportunities for them to engage in outdoor experiences, hands-on animal care, and learn all about growing plants and food throughout the year.

Space Center:

Do you have what it takes to survive a mission to outer space?

Our Reality's Edge Space Center

is the combination of improv theater and a live­‐action, team­‐based simulation. Participants have an adventure in a futuristic setting, guided by our Flight Director who leads the crew. During each mission participants get to practice important skills such as problem-solving, teamwork, collaboration, and communication. Each flight has its own unique series of challenges and discoveries, similar to an episode of television. However, at our Reality's Edge Space Center, you and your fellow crew members are the actors and protagonists of these stories!

Smart Lab:

Design a video game, sculpt a 3D masterpiece, or direct a stop motion movie! The Smart Lab is equipped for your student to discover the how's and why's behind this technology and more. While in the Smart Lab, students have the opportunity to take over the management of real-life digital projects from the ground up! Students will work in small groups to set goals, problem-solve, and utilize their collaborative skills to construct their creative ideas from start to finish. With each finished project your students' technological vocabulary expands helping them to navigate comfortably within our digital world.
Middle School & High School – Drawing
Recommended for novice and intermediate artists, this course covers sketching, drawing, and the necessary skills to understand the foundations of illustration. It's great if you're looking to broaden your abilities as an artist or sharpen already established skills.
Middle School  & High School – Culinary Arts
Steaming soups, savory sauces, and the basics of baking are all a part of Middle School Culinary Arts. Students will get comfortable safely working within the kitchen while preparing a variety of recipes, learning the science of baking, and exploring the world of culinary careers.In this class students will also learn about sustainable food practices, the importance of presentation, and ways to maximize nutrition without sacrificing taste.
Middle School – STEM Electronics
Discover how technology has changed the world around us by pursuing technological solutions to everyday problems. While using scientific and engineering methods, learn how electricity, electronic systems, magnets, and circuits work.
High School – Business: Entrepreneurship
Students will explore why people choose to start businesses and some of the common pathways to entrepreneurship. They will also begin to explore basic concepts in entrepreneurship, different types of business ownership, and risk management basics
High School – Digital Business
The business world is progressively more reliant on digital technologies. The Digital Business
Applications course is designed to prepare students with the knowledge and skills to be an
asset to the collaborative, global, and innovative business world of today and tomorrow.
Concepts include the overall digital experience, digital communications, digital media and the
exploration of career choices. This course also provides practical experience in professionalism
using various forms of presentation skills, including speaking, podcasting and digital portfolio
relating to the globalization of business.