Following is the online high school schedule of live online classes for the Fall '23 and Winter '24 semesters. In addition to these live online classes, we offer some self-paced courses, which are listed in the tables below.  Course listings are also available in SIS under Registration.
High school students may take up to 8 classes per semester.
*Note: For High School courses, the listed grades are recommendations only. High School classes are not grade-specific, and students may choose which classes to take
Live Online Courses
Note: Live Social Studies, Literature, Writing & Rhetoric, High School Math, and Pre-Calculus courses are offered in Classic and Honors versions. Self-paced courses are only available in the Classic format. Students in Classic and Honors courses meet in the same live class sessions but Honors students complete roughly 30% more work. You can select either the Classic or Honors version when you enroll in SIS.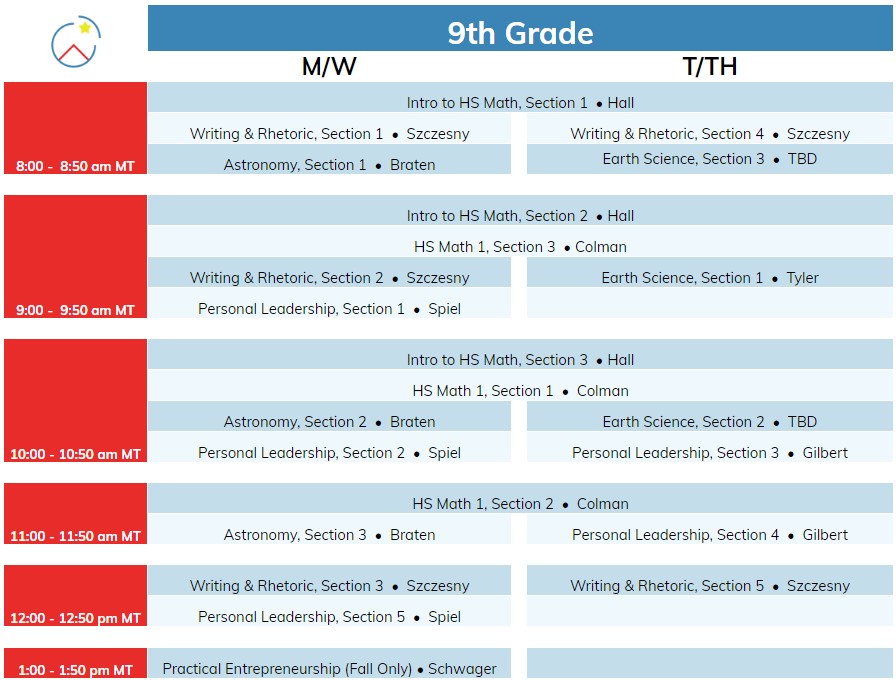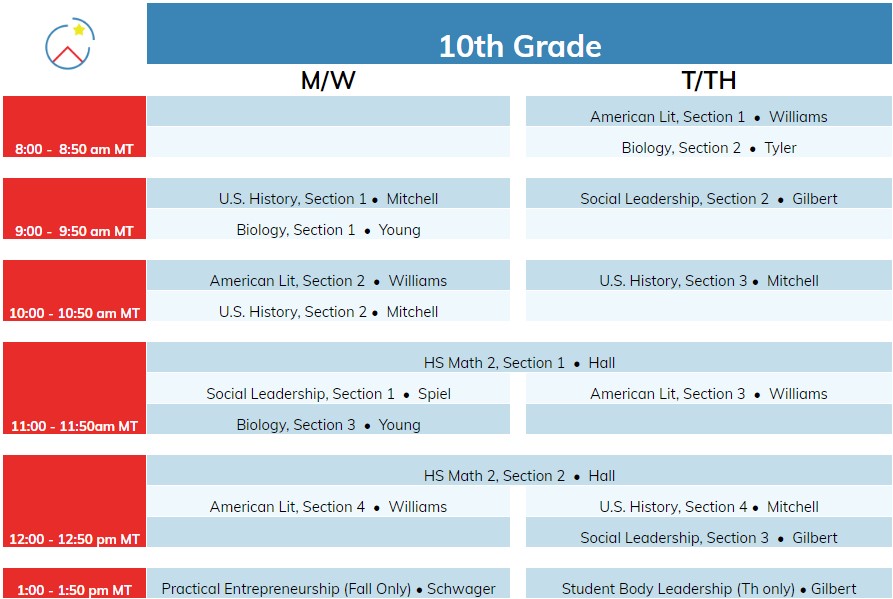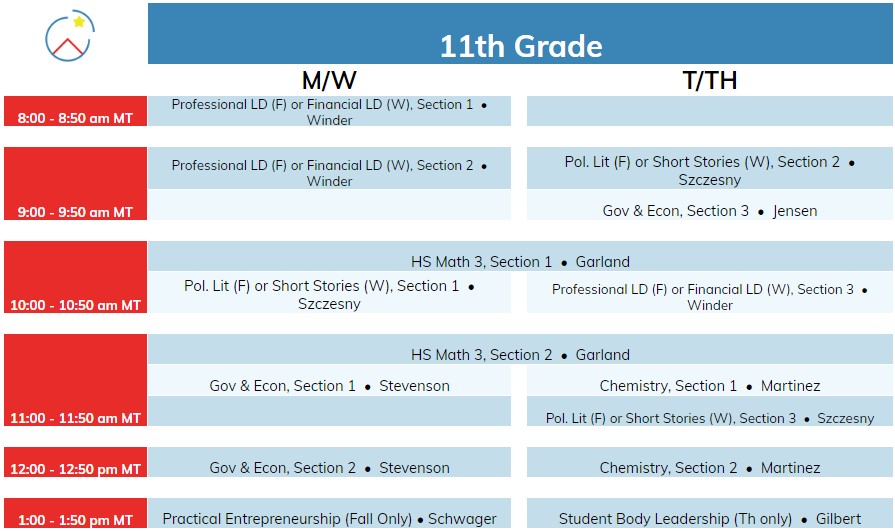 Additional Notes for Live Online Courses
All live online courses are 50 minutes long
Fridays are for individual study and mentor office hours. Students should plan on studying for several hours most Fridays
Course mentors and class times are subject to change, depending on enrollment
All live online classes include an "A" semester offered in Fall, and a "B" semester offered in Winter, unless specifically designated otherwise as follows: (F) = Class held Fall Semester only; (W) = Class held Winter Semester only
Leadership Academy of Utah follows Daylight Savings Time.
High school students may take up to 8 classes per semester. Block classes count as 2 each.
Self-Paced & Independent Courses
Self-Paced Courses - Core
Science
Language Arts
Biology A
Biology B
American Literature A
American Literature B
Chemistry A
Chemistry B
World Literature A
World Literature B
Earth Science A
Earth Science B
Writing & Rhetoric A
Writing & Rhetoric B
Physics A
Physics B
Political Literature
Short Stories
Leadership
Social Studies
Personal Leadership A
(includes Ed Tech)
Personal Leadership B
(includes Fitness for Life)
Government & Economics A
Government & Economics B
Social Leadership A
Social Leadership B
U.S. History A
U.S. History B
Financial Leadership
Professional Leadership
World Civilizations
Geography & World Events
Math
Calculus A
Calculus B
High School Math 3A
High School Math 3B
High School Math 1A
High School Math 1B
Intro to HS Math A
Intro to HS Math B
High School Math 2A
High School Math 2B
Pre-Calculus A
Pre-Calculus B
Self-Paced Courses - Electives
3D Design: Modeling, Animation & Printing
Python Programming
Sound & Audio Engineering
Computer Technology
Entrepreneurship: Starting Your Business
Fitness for Life
Concepts of Engineering & Technology
International Business: Global Commerce
Mind & Body Stewardship
Digital Art & Graphic Design
Law & Order: Introduction to Legal Studies
Second Language
Marine Science: Secrets of the Deep Blue
| Independent Courses | | |
| --- | --- | --- |
| Independent Calculus A | Independent Calculus B | Independent Studies, Science |
| Independent Pre-Calculus A | Independent Pre-Calculus B | Independent Studies, Social Studies |
| Independent Studies, Elective | Independent studies, Fine Arts | Independent Studies, P.E. |
| Independent Studies, Language Arts | Independent Studies, Math | |
You can view specific high school course descriptions on the Williamsburg Learning website.