Following is the middle school schedule of live online classes for the Fall '22 and Winter '23 semesters. In addition to these live online classes, we offer some self-paced courses, which are listed in the tables below.  Course listings are also available in SIS under Registration.
Live Online Courses
Humanities courses are offered in Classic and Honors versions. Students in Classic and Honors courses meet in the same live class sessions but Honors students complete roughly 30% more work. You can select either the Classic or Honors version when you enroll in SIS.
Additional Notes for Live Online Courses
Fridays are for individual study and mentor office hours. Students should plan on studying several hours most Fridays
Course mentors and class times are subject to change, depending on enrollment
Leadership Academy of Utah follows Daylight Savings Time.
Middle school students may take up to 6 classes per semester. Block classes count as 2 each. The only exception is Writing 6/7, which can be a 7th class.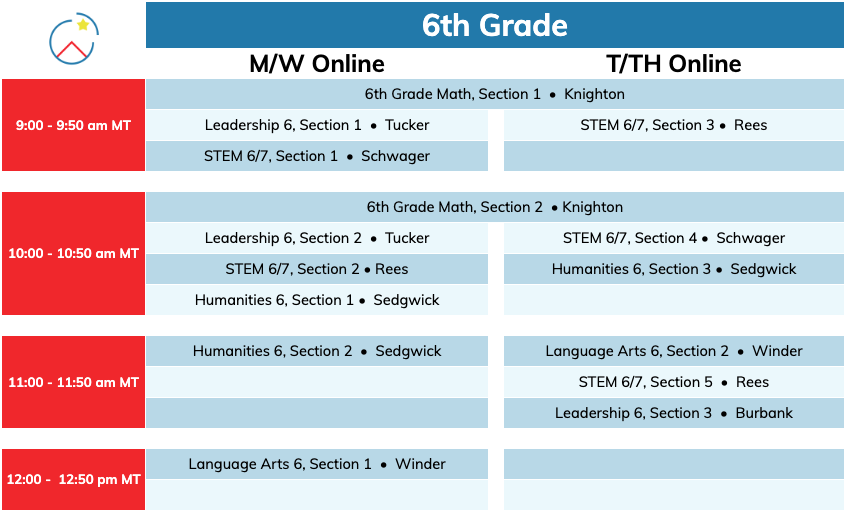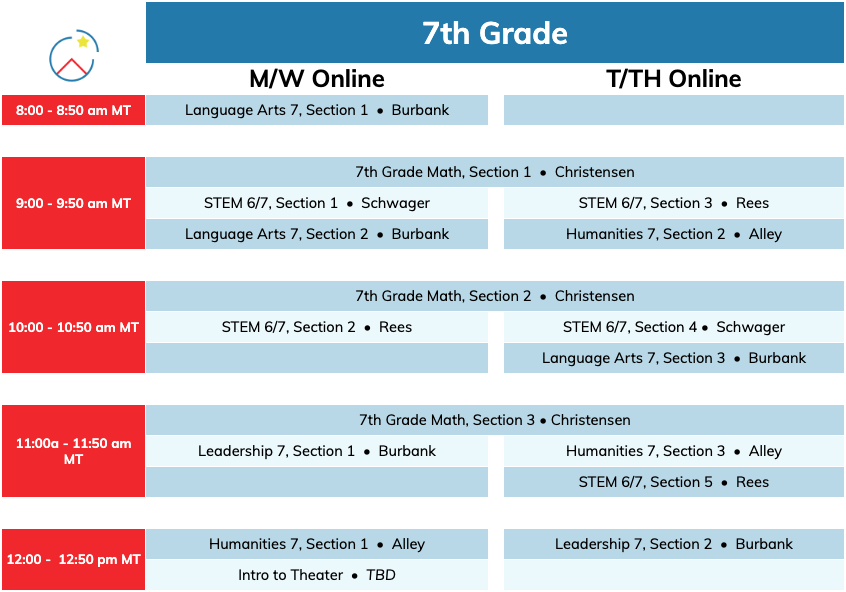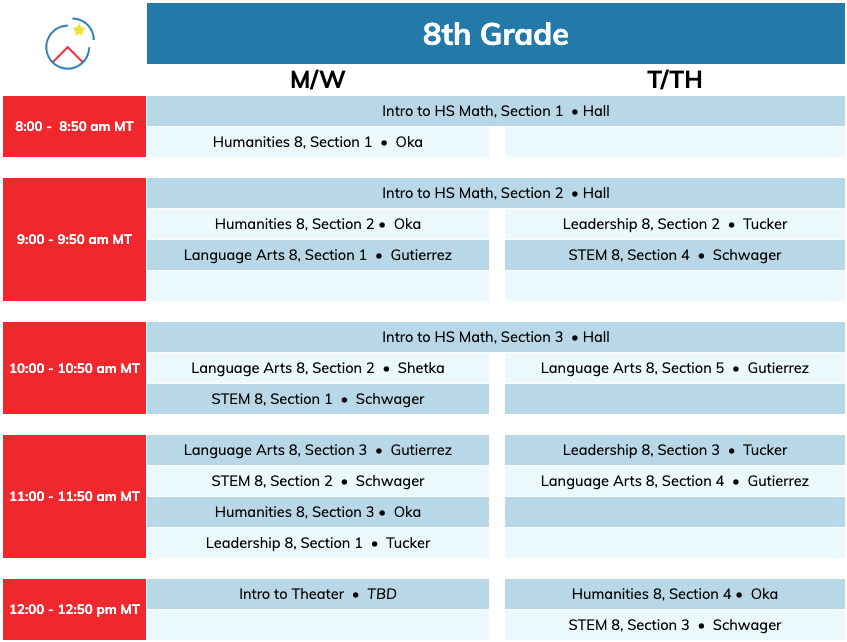 Note for Self-Paced Second Language Courses
Second Language courses have been designed for students in grades 9–12, and are offered for high school credit through our high school program. Students in grades 6–8 may enroll in these courses, but may not be ready for this additional workload. If you feel your middle school student can successfully complete a self-paced, high-school level language course, please contact us.
| Self-Paced Course | Semester Offered |
| --- | --- |
| Middle School Photography A | Fall & Winter |
| Middle School Photography B | Fall & Winter |
| College & Career Awareness | Fall & Winter |
| Middle School Typing | Fall & Winter |
| 6th Grade Math A | Fall & Winter |
| 6th Grade Math B | Fall & Winter |
| 7th Grade Math A | Fall & Winter |
| 7th Grade Math B | Fall & Winter |
| Intro to HS Math A | Fall & Winter |
| Intro to HS Math B | Fall & Winter |
| Second Language | Fall & Winter |
| Humanities 8A | Fall Only |
| Humanities 8B | Winter Only |
| Independent Courses | |
| --- | --- |
| Independent Studies, LAU Funded Elective | LAU Independent Studies, Math |
| LAU Independent Studies, Fine Arts | LAU Independent Studies, P.E. |
| College & Career Awareness | |